Payment Possibilities
In general the merchandise will only be shipped after being paid in full as described in the General terms and conditions. This allows to keep the administrative overhead cost low and allows us to offer attractive product pricing.

In Store
Cash





You may pay directly in our physical store in Cash or with one of the following card services: VISA, MasterCard, V-Pay, Maestro or Postcard. This is also possible for items which you order online with local store pick-up. In this case please use Tack'n'Ride as shipment service and no shipmment fee will be charged. You may send us a message during the check-out process to indicate when you would like to come to the store and we will get all the items ready beforehand.
In the Online Shop
PrePayment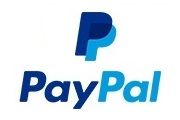 Prepayment by bank wire transfer
You may wire the full amount to our account at the Postfinance. Please make sure to add the order number as a message to our accounting department. The bank wire transfer may take 1-2 days to be completed depending on the financial institution involved. We will release the package for shipment as soon as we get a receipt confirmation from our Bank or when you provide us a PDF payment confirmation.
Recepient:
Tack'n'Ride
Altmannsteinstrasse 36
8181 Hoeri
Switzerland
Bank account information for payments in CHF:
PostFinance AG, 3030 Bern
IBAN CH89 0900 0000 6169 1582 8
or
Swiss Post Account Nr: 61-691582-8
Card payment via Postfinance (Postcard / MasterCard / VISA)

You may choose the option to pay via Postfinance during the checkout process online. You will be transferred to a secure payment page where you can choose to pay with your Postfinance E-Payment profile, Postcard or Maestro or VISA.

Payment with PayPal

We have integrated the Payment with PayPal into our shop system which is also possible payment option for customers outside of Switzerland. Please do not use this option when you plan to pick-up your purchase.

Payment with invoice
Currently not possible.We may offer good regular customers the option to purchase with invoice. The payment terms are 10 days after receipt. Please note that we we charge 20 CHF surcharge for each remider communication of overdue amounts.